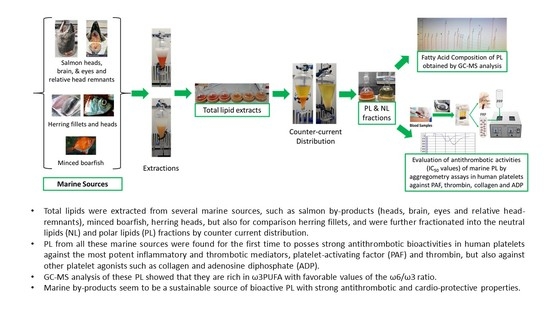 our latest paper was published yesterday...
1
Department of Biological Sciences, University of Limerick, V94 T9PX Limerick, Ireland
2
Health Research Institute (HRI), University of Limerick, V94 T9PX Limerick, Ireland
*
Author to whom correspondence should be addressed.
Abstract
Marine polar lipids (PLs) have exhibited promising cardioprotection. In this study, marine by-products such as salmon heads (SHs), their brain, eyes and main optic nerves (SBEON), and head-remnants after SBEON removal (RemSH), as well as herring fillets (HFs), herring heads (HHs) and minced boarfish (MB), were evaluated as potential sustainable sources of such bioactive PLs. The antithrombotic bioactivities of PLs derived from these marine by-products were assessed for the first time in human platelets against platelet-activating factor (PAF), thrombin, collagen, and adenosine diphosphate (ADP), while their fatty acid composition was evaluated by gas chromatography–mass spectrometry (GC-MS). PLs from all marine by-products tested possess strong antithrombotic activities against aggregation of human platelets induced by all platelet agonists tested. RemSH, SBEON, HHs, HFs, and MB exhibited strong anti-PAF effects, similar to those previously reported for salmon fillets. PLs from MB had the strongest anti-collagen effects and PLs from SHs and SBEON were the most active against thrombin and ADP. PLs from HHs had similar antithrombotic effects with those from HFs in all agonists. RemSH was less active in all agonists, suggesting that SBEON is the main source of bioactive PLs in SHs. All PLs were rich in omega-3 polyunsaturated fatty acids (ω3PUFA), such as docosahexaenoic acid (DHA) and eicosapentaenoic (EPA) acid, with favourable low values of the ω6/ω3 ratio. Salmon, herring, and boarfish by-products are rich sources of bioactive marine PLs with potent antithrombotic and cardioprotective properties.
View Full-Text